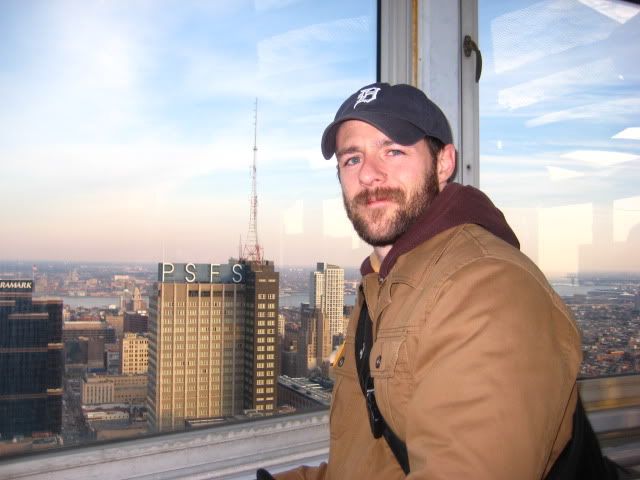 Tonight's post will be short and sweet because my evening has been hijacked by my loving husband who decided to whisk me away for a surprise date night.
"I'll pick you up at 3:30," he said.
"You know we live in the same house, right?"
"Just be ready," he told me. And at 3:30, he knocked on the door.
We walked to the center of our beautiful city, and stood staring up at City Hall. In June, Gabe and I
made a list of all the things we wanted to do in Philadelphia
before we moved and at the top of that list was to see the city from the City Hall Tower. Trouble is, you have to get an appointment well in advance. And well, we don't really do advance. So all we have ever been able to do is stare up at the tower and wonder about its magnificent views. But not today. My sweet husband had arranged for us to take the very last tiny little elevator up to the tower and have the entire observation deck to ourselves to watch the sunset.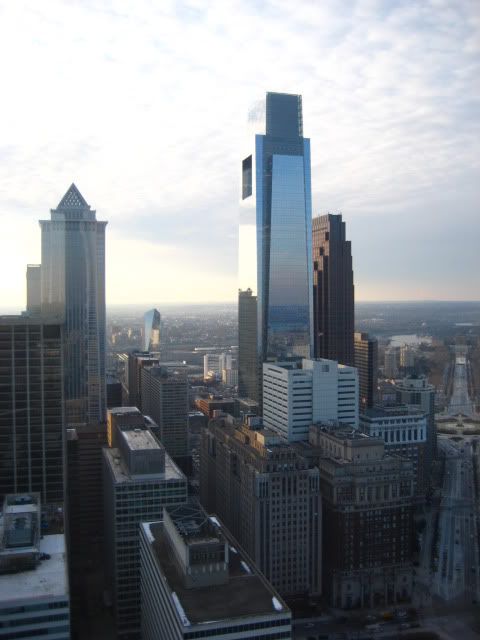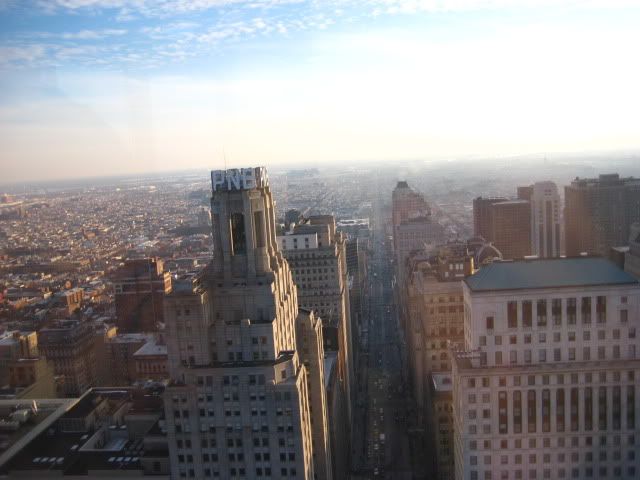 It was gorgeous, the sunlight glistening off the buildings and casting the rooftops in a golden glow. We marveled at the city stretched beneath us. The security guard that took us up in the elevator insisted that if I went into labor tonight we had to name our little girl Penny after William Penn. Thankfully, I haven't gone into labor just yet.
We left the tower and wandered over to the Comcast center where we explored the new food court. We ate hoagies and French Fries. I told Gabe that ever since I had seen the Cosby show I had wanted to get a real Philly Hoagie and he said, "That was filmed in Philly?"
At one point, he leaned over the table and spoke in a hushed voice, "God, I have the most beautiful wife."
I blushed.
We left the gourmet food court and stopped off at the Sony store to play the new Wild Things video game on Sony PlayStation. We walked home, only stopping along the way at Di Bruno Brothers to pick up cheese for a massive cheese platter we assembled when we got home. We took our time in the store, tasting every cheese sample and reading the labels on all the various fig jam spreads. He has a thing for fig jam.
While we were walking through the park, he took my gloved hand and kissed it gently as if I were something delicate and precious. As if I weren't so ginormous that I couldn't zip my winter coat.
When we got home, we ran a hot bath. We lit candles like couples do in the movies and took a long soak. It was an effort just lowering the extra 20 pounds of my achey 39 week pregnant body into the water and not displacing half the tub onto the bathroom floor. He sang along with songs on the XM radio, told me stories and gave me all the best details from his daily blog reads.
Afterwards, Gabe lit a fire in the living room, I assembled the grand cheese platter, and we sat in front of the fire playing Gin Rummy. I won six hands to his four and scored three times as many points. Yet he still loves me enough to be arranging some surprise for me in the bedroom before we go to bed.
I don't know how many date nights we have in store for us in the upcoming months, so I'm really glad we got this last one in before the baby's arrival. And I couldn't be more grateful for a man who knows exactly what makes me happy. Sometimes, I can't believe that someone so giving, so creative, so humble and so handsome, loves me.
I got lucky when I found him.
Sometimes I forget how really great I've got it.