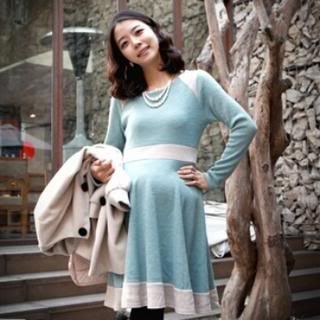 From the start, I was dead set on avoiding maternity shops completely. Yet, at twenty weeks pregnant I could no longer fit in my skinny jeans, so I made the cardinal mistake of visiting the local Destination Maternity Shop on Walnut Street.
Destination Maternity is a typical mall-style maternity wear shop filled with poor quality polyester designs offering no originality but priced as couture fashion. It is the only store in Center City where you are greeted within the first two minutes of entering the store. Normally, this would be a good thing. But there is something all together combative about the barrage of questions thrown at you like grenades within mere moments of walking through the door, "Can I help you?", "Are you looking for something in particular?, "Do you want me to put that in a room for you?"
"I just walked in the door. I don't even know what I'm holding in my hand right now."
"Okay – well my name is Charisse, just let me know when you are ready. Do you know about our special Cord Blood Donation program?"
All I wanted to do was look at the racks of tacky t-shirts and unshaped pants. But Charisse wanted to follow me around the store, prey on my new mother fears and try to sell me things I just did not need.
"Do you have your nursing bras yet? You are going to breastfeed, aren't you?"
"Charisse, I think I want to be alone. I'll let you know if that changes," I said.
But she only took a few steps back, shadowing me from six feet, instead of three.
I scanned the store for basic staples. I picked up a few t-shirts, but they were not soft, they were not shaped well and they were not thin or long enough to pull down over my enlarging hips. The leggings were thick and awkward, they looked shiny when you pulled them over your skin. I selected a dress from the rack and held it up to the light. The sewing was weak, the threads pulling out at the seams. The price tag read $176. It looked like something I could buy in the Juniors section at Macy's for $34.99.
After thirty minutes of searching for something I might find special enough to buy, I purchased a pair of $25 tights while Charisse tried to sign me up for the mailing list, convince me to bank my cord blood and sell me a subscription to Parents Magazine.
I left the store feeling depressed. Did I really have to give up fashion for the rest of my pregnancy?
Well, the answer was no! I didn't have to give up fashion, all I had to do was change my sizes and adapt my style. I marched down to
Anthropologie's sale room
and started grabbing tunic tops off the racks. Tunic tops in one size over my normal 6, fit easily over my belly. Next, I grabbed soft, extra long tank tops for layering. I picked up a few ultra soft Ella Moss tees in extra long. I found every dress in the store that was high-waisted or
meant to be worn with a belt
.
Boyfriend cardigans
and
open knits
in medium and large went down to mid-thigh and looked great over all my new shirts. A heather grey bolero jacket marked down to $29.95 finished off my purchase. Thank God for a sale, the total came to $176.
Next, I headed over to the Gap. Here is where I bought my maternity essentials. While their maternity section offers the usual unattractive, stiff casual wear, they also have a few basic necessities. I found four things I absolutely loved:
For
pajama bottoms
, I ordered Old Navy maternity from the online store. And to prep for the holiday party season, I hit the internet and tried these two on-line stores for affordable chic knit dresses and fashion forward separates.
At the end of my shopping spree, bags and UPS boxes strewn around the bedroom, I felt renewed and refreshed. I didn't feel like hiding at home, I couldn't wait to get out and show off my belly in my super cool duds. And I was even more relieved that I would never have to set foot in a mall maternity shop.
Fashion for the pregnant lady doesn't have to be pricey and doesn't have to be boring. It just means you have to be a little more creative.