When you are expecting a baby, beware the consumer trap! The sharks swimming on the outskirts of your baby bliss vacation will eventually attack. In one mighty bite they will convince you that you NEED a $1200 Stokke crib and fur lined wipey warmer and then they will swallow you and your paycheck whole. These sharks - the parenting magazines, the baby blogs, the women at the park - they will all try to seduce you with their fancy $1000 strollers, $900 cribs, $400 bedding sets, $100 onesies, $80 baby carriers, and $30 paci sterilizers. And then, after you have spent every last penny on the most stylish car seat, invested your time in painting the nursery, and given your soul to the devil in exchange for a custom mobile, she is born and the Bermuda triangle of expensive 'must-haves' just opens wider.
One day, I found myself musing aloud what kind of job I would have to get to dress my child's ever-adjusting size in designer duds, buy her the 'must have' Christmas gift every year, and keep her nursery updated in the coolest decor. That is when Gabe staged an intervention and reminded me that we like to 'keep it simple'. With reluctance, I pledged to try and avoid the temptations and stick to the basics.
Dedicated to avoiding the hype, we compared prices, read Amazon reviews and consulted Consumer Reports before we selected all the essentials for our registry. My mother warned, "Don't register for Lanolin cream, breast pads or pampers. And whatever you do, don't register for clothes! Keep it simple, register for your big items and fill in the little stuff later."
Armed with Mom's advice and full knowledge of the low balance in our checking account, we narrowed down our registry to the bare bone basics. Over the next few days, I will roll out our choices in order of necessity and significance. Now of course, we don't know how these items will actually fare when we have a real live baby in our home. But I promise to keep you updated.
Here is what we deemed to be the essentials.
The Crib:
This is where most people begin. I mean, the baby has to sleep somewhere, right? It's a good place to start, but not for us. A crib is a luxury that Gabe and I will indulge in when we arrive in our new LA home where hopefully our baby will have her very own nursery. When we are ready – I want the
Argington Organic Bam Crib/Bassinet Set
. It looks round (like the very expensive Stokke) but actually fits a rectangle mattress. The mattress size is very important because all the super cute baby bedding is 'standard size' and if you don't have a 'standard size' mattress then you better be ready for exhaustive internet searches for odd sized sheets that usually come in boring colors like white and cream. The Bam is pretty simple and lets you lean into the crib from all sides. I liked the design – but may eventually cave for a knock off from IKEA.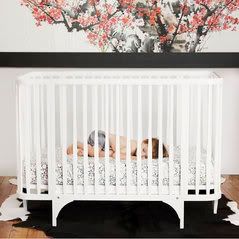 In the meanwhile, our baby will be sleeping in the below
Chicco Lullaby LX Playard
outfitted with a custom fit Colgate mattress that is too small for 'standard size' sheets.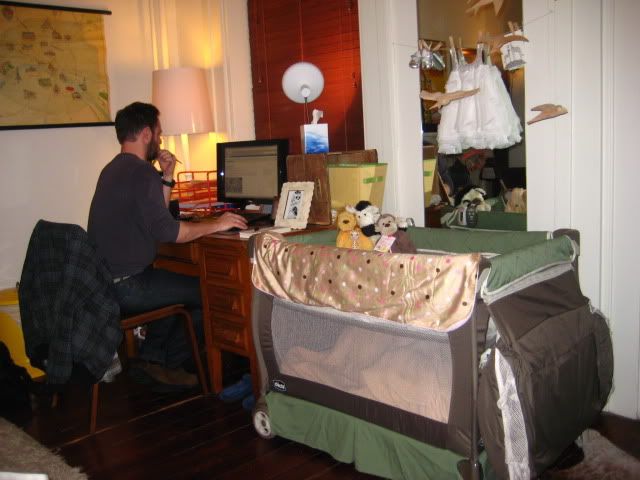 When I first popped up the playard in the bedroom, I nearly cried at its tent-like appearance. But after I found some
pretty yellow sheets
on Amazon and an adorable blanket that tied it all together, I was much happier with our baby's new bed.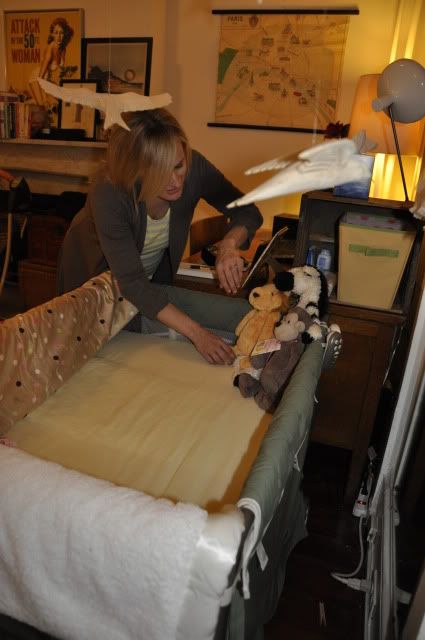 My mother tells me that while I had a perfectly good crib when I was born, I preferred to sleep in a drawer or basket of laundry for my first few months. Other perks of the playard, it has wheels and can move easily from room to room while we figure out exactly where the baby will be sleeping. This version packs into a zip-up bag and wheels out to the car so you can take it to Grandma's house, and at $145 it costs less than a crib. Her growing collection of little friends seem to like it just fine.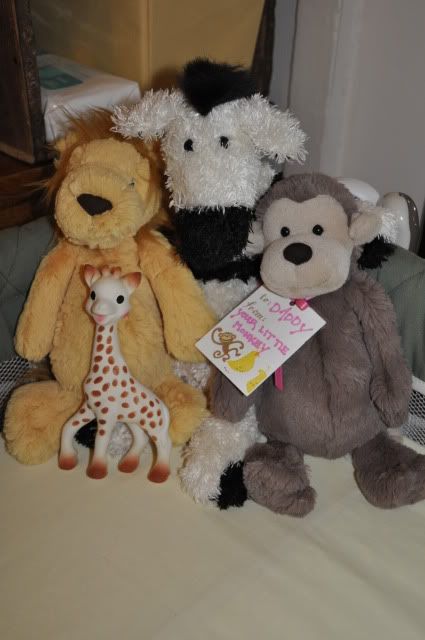 (Special thanks to Auntie Sue for the jungle themed playard where our baby girl will spend her nights for the next few months, and sweet Ms. Laura for the perfect bird mobile)
The Stroller:
See
previous post
on the
Baby Jogger City Mini Single Stroller in Orange/Grey
.
The Car Seat:
In the beginning, we were sure we could skip this item as we don't even own a car. But then we learned that some hospitals require you to have one of these before they will let you leave the building with your baby. It still seemed an unnecessary expense, as a baby will grow out of an infant car seat quickly. We changed our minds when we realized we would need an infant carrier if we travel by air, if we rent a Zipcar, or even if we ride in a taxi. In addition, we figure we can attach the infant seat to a
Snap'n'Go
frame and use it as an infant pram for the first few months of the baby's life.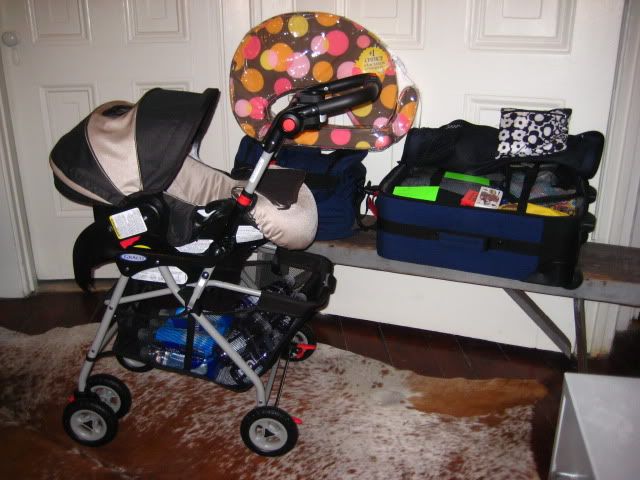 According to Amazon, the car seat with the highest safety rating is the
Chicco Keyfit 30 Infant Car Seat
. While other car seats were more attractive, the top safety rating made the Chicco seem like the best choice. But after reading more Amazon reviews, we discovered that the Chicco does not play nice with other gear. The Chicco car seat is flat on the bottom and doesn't have a divet that lets you rest the seat on a stroller frame, or a shopping cart, or in a swing. That's when we decided to go with the number 2 for safety and picked out the
Graco SnugRide
in the platinum color combination.

Besides being safe, it fits perfectly on our snap'n'go and is super light-weight. It's not bulky and I can balance it in over one arm.

(Special Thanks to Ligia, Maiken, Elizabeth and Lillian for baby's first car seat and base)


The Changing Table:
Rather than purchase a full changing table, we decided to simply register for a changing pad and affix it to the top of our beautiful map table. It broke my heart to apply the industrial velcro to our gorgeous table, but I was thrilled to not have to add another piece of furniture to our already cramped apartment. The velcro will come off eventually and a quick paint job will fix the eyesore. I had to look extra hard for a pad that was narrow enough for the table top – but I finally found
this one.
It's covered with a super soft
Boppy Changing Pad
in sage.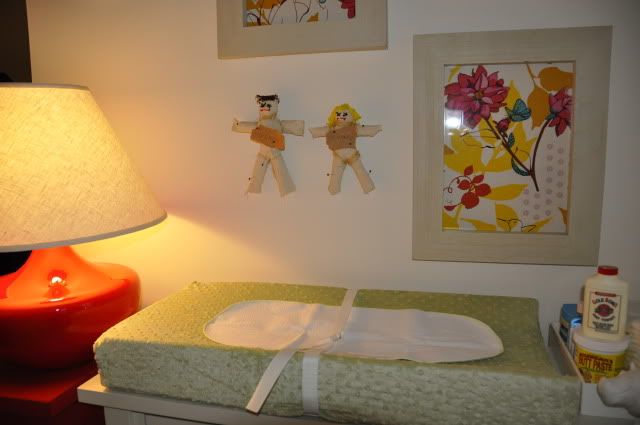 West Elm had a big sale on their trays after Christmas. For $9.99 I bought a white plexi-glass tray and stocked it full of diapers, little jars and ointments. I don't know how well the Butt Paste works or if we will even need it, but I was a sucker for the label.
That's it for today's gear review. But tomorrow I promise to tell you all about our fancy diaper disposal system, bright pink bath tub choice and must have chew toy.
To Be Continued...