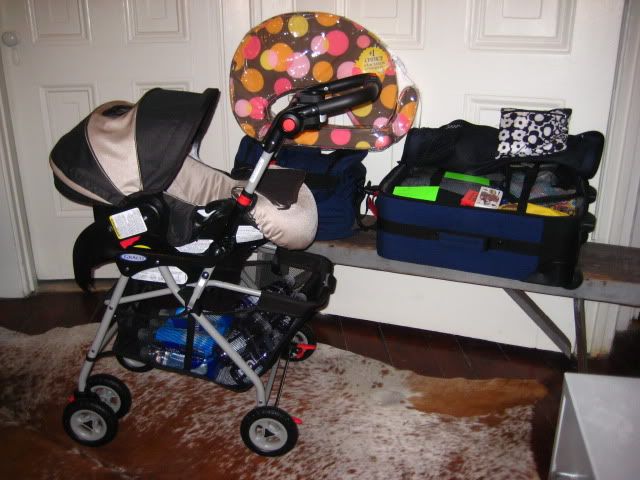 My sister has been telling me for the last few weeks that I need to get my hospital bag packed. It's been half packed since she first suggested it, but I decided tonight was the night to clear off the bench at the end of our bed.
Here is what I packed:
Baby car seat
Baby clothes, socks, hand socks and hat
Two swaddling blankets
An eight-pack of lemon Gatorade, a six-pack of Smart Water, trail mix and protein bars for Dad
Bendy straws
Lollipops, hard candies
Four printed copies of our Labor Plan
Labor/Pain remedies (massage lotion, aromatherapy oil, our bathing suits, hair ties, chapstick, mints)
Entertainment (Bananagrams, 2 decks of cards, iPod, speakers, headphone)
Camera and FlipCam (chargers and extra cords for both)
Cell phone charger
After labor clothes (light robe, slippers, nightgown, sleep pants, nursing top, nursing bra, leggings, tunic top, long tank, and sweater)
Toiletry bag and cosmetic bag
Hair dryer
My Breast Friend pillow, tube of Lanolin, and breast pads
Change for the vending machines
Anything important that we are forgetting??