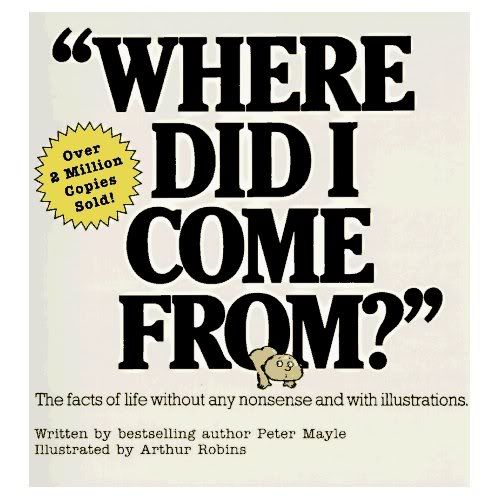 And lo, the angel of the Lord appeared and said,
"Lo, I am the Angel of the Lord sent here to bring you the good news. You have been chosen to bear a child. She will be a child of light, born to bring peace and serenity to the world. Lucky is the mother and father that will raise her in their home. She will change the world and make it a better place. She will be born unto you at the dawn of a new decade. You will swaddle her, lay her in a pack 'n' play and people will come from around the globe bearing gifts fit for a queen. Behold the glory of the Lord."
"Um, excuse me, Lo? I think you may have the wrong woman."
The Angel of the Lord raised up her nose to the sky and folded her wings behind her,
"Thy Lord has spoken. You have been chosen."
"Okay, but really, I'm thinking you are not at the right window. I'm not married. I just got back together with a man afraid of commitment and as far as I know, my ovaries don't even work."
"Dare you defy the word of the Lord?"
"No, not at all. But did the Lord actually say my name or was he just like, 'Hey Lo, go to the first window you see on Spruce Street and tell whoever is inside that they are going to have a baby?'"
"You cannot argue with the word of God."
"Can't or shouldn't? Because I'm pretty sure I saw a light on in the house next door. You know, the house with that cute newlywed couple in it and the extra bedroom? Surely I am not fit to be a mother. I'm unemployed, unmarried and prone to overanalyzing and depressive thoughts. I'm certainly not responsible enough for something like this, nor unselfish enough to make a good mommy."
"God has given you a gift. Accept it."
And with that, Lo was gone and I was struck pregnant.
Nine months later, I woke up one morning and there you were in the bed next to me. My hair was perfectly coiffed, and there were some birdies singing in the window. I shook your father awake, and we smiled peacefully. We gave thanks and went back to bed.