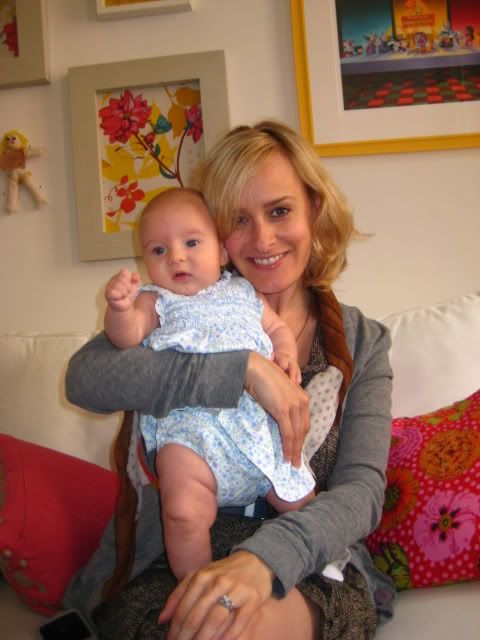 Dear Story,
This morning you woke up at 7:00 AM and I held you until 10:00 AM, kissing your forehead, stroking your super soft skin and smelling your lovely baby smell. Daddy made me coffee and toast for breakfast and served it to me in bed.
When I got out of the shower, I found the card you left for me. It was so sweet, thank you so much little lady. I loved the glitter and your sweet words. I told Daddy that I found your card and he said, "I told her to wait until brunch to give it to you, but she was too excited."
I dressed you in a pretty new blue dress that you got from Mimi and we all went to a fancy brunch at Daddy's work. All of Daddy's friends came by to say hello. You smiled at everyone and let Mommy make it all the way through brunch without fussing a bit. Thank you sweetness.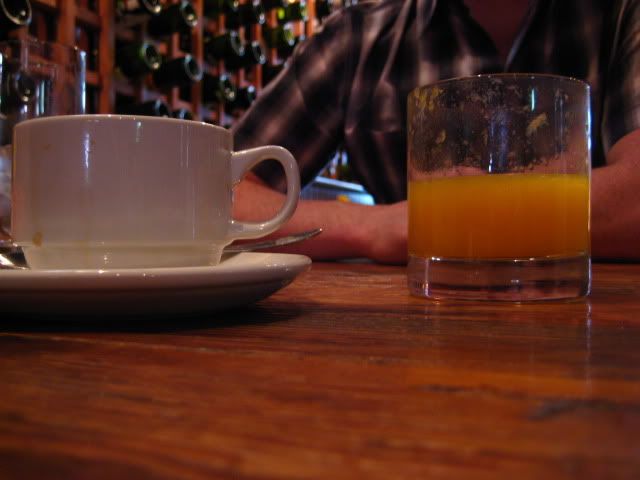 After brunch, we all hopped in a taxi and went to The Ritz to watch the movie Babies. Thank goodness you are so cute, because it turns out that they don't allow babies at the Ritz but they made a special exception just for you.
"If she cries, you gotta get her out of there," said the manager.
You were fast asleep in the stroller when the movie started and I was so sure you were going to wake up. It was so loud.
"At least there wont be any crashes or explosions in this movie," your Daddy said.
You made it about thirty minutes before you woke up. I got you out of that stroller so fast and started feeding you right there in the theater. That kept you quiet for a little bit, but you really weren't digging on all that noise and especially the scenes where there were lots of babies crying. You joined right in and my blood pressure went way up.
Daddy took you out of the theater when you started crying. "It's not like I'm going to miss something essential to the plot line," he said. He was right, of course. So Daddy and took turns standing at the back of the theater bouncing you while we watched the utterly delightful movie. I think that might be the last movie we watch in a theater for a long while.
It just so happens that the movie theater is right across the street from where Daddy and Mommy had their wedding reception. So we took you over to see where we had our first dance as a married couple and get some dessert. You lounged on the white sofas and made sweet cooing noises that melted the hearts of both me and your Daddy. Dessert was free since Daddy's friend was working. And everyone wanted to hold you and pinch your cheeks.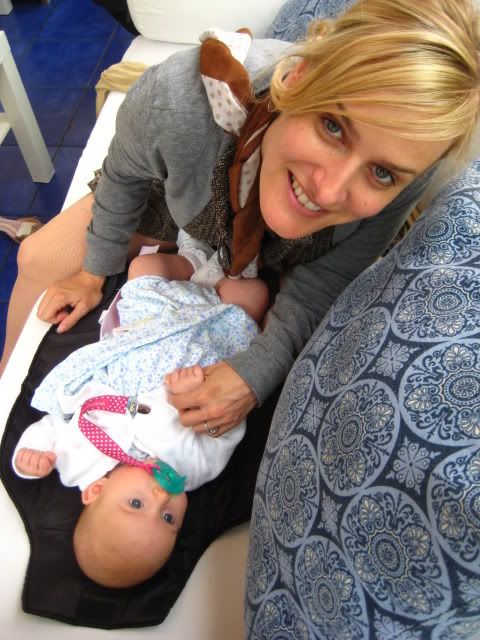 When we got home that night, Daddy tried to convince you that you could wear your underwear on your head as a beret. He carried you around the room, speaking in a French accent about baguettes and croissants.
We took a bath together and you went right to bed. After I turned out the light and kissed you on the forehead, I stared at you in the bed until you fell asleep. Oh how you have filled my life and my heart with an overabundance of joy in the very short time I've known you. Before you, Mother's Day was just a reason to send another greeting card. But now, it means something. Just like you.
All my love, xoxoxoxo - Mom