I knew after my first date with Gabe that this relationship would amount to something very special. He was the first man I had ever met that was capable of dramatic gestures. He had no fear about asking me out on our first date via a photo text of a cocktail napkin.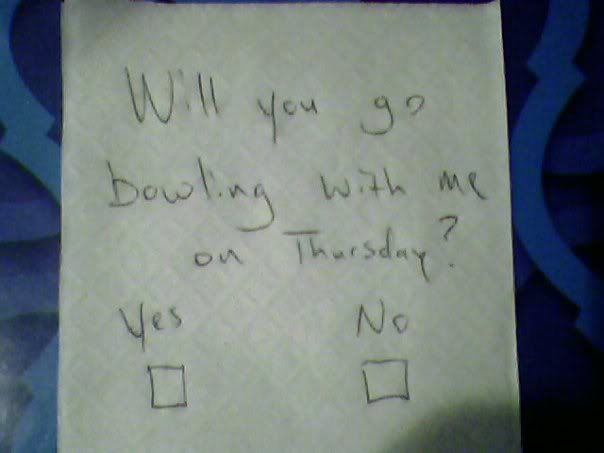 He was so smooth on that first date, not afraid of an awkward silence as we rode the subway to the bowling alley. He wasn't gooey or weak when he went to great lengths to walk between me and the street. He was super cool and unemotional on that first date, but he made these grand gestures that won my heart. He quietly paid for the bowling game and drinks when he got up to use the bathroom. He brought quarters so we could play Deer Hunter in the arcade before we left. He reached ahead of me to open a door. He insisted on walking me home. He wouldn't come inside my apartment or kiss me goodnight but made me close and lock the gate before he left. He was careful not to ask me out on a second date before he departed from the first. But I knew there would be a second date.
A few days later, I got another picture message on my phone. It was a number of bar accoutrements that spelled out "Do you like Jazz?"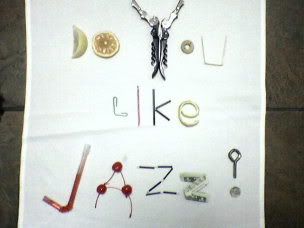 I didn't – but I was smitten by his efforts to dazzle me and agreed to meet up for some dinner and jazz. We ate at a restaurant in Northern Liberties that had a wall size print of a woman's breast. He didn't look at it once. I asked him questions and kept him talking. He paid the waiter and walked me over to this jazz club next door. It was cold and dark and smelled of urine and beer, but Gabe and I sat at the bar for several hours talking as the musicians played in the background. I asked him question after question, careful to keep it light but dig below the surface. I remember wondering if he was ever going to ask about me – and that is when I realized he was just a little bit nervous. He walked me home, this time he stepped into my doorway and kissed me sweetly goodnight. After I closed the gate, he kissed me quickly again through the bars, listened for the lock of the door and walked home. Again, he avoided any talk of date 3.
But by date three, I knew he liked me. That is how I knew he would appreciate the gesture when I sent him a photo of a scrabble board accepting his request to make him dinner.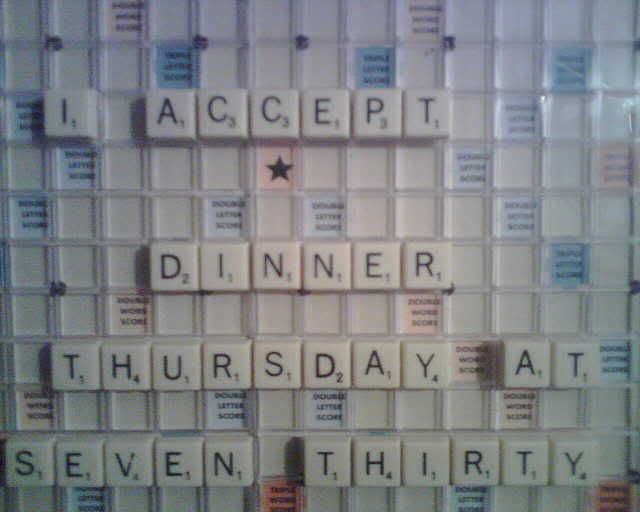 I skipped to the bus in the mornings and smiled all week at work in anticipation of Thursday night. I picked out a special recipe to prepare for dinner, I cleaned the house, I dusted off the scrabble board, I used soft lighting and was just putting away the vacuum when the doorbell rang.
As I stepped towards the door, the vacuum fell out of my hand and scraped a good three inches of skin from the delicate edge of my ankle. I answered the door limping, a trail of blood spots on the wood floor behind me. There he stood, holding a tin of tea in his hands. He immediately knelt down and took my foot in his hand.
"You are hurt. Do you have Neosporin?" He asked.
"It's okay. Don't worry about it. Come in. I have food on the stove. Can I take your coat?"
"Really, let me help you with this." He insisted.
"It's fine." I tried to convince him as the blood oozed onto the wood floors. "You brought tea?"
We both looked at the tin of tea in his hands.
"Well, I know you don't drink. And you always order tea at the bar, so I brought you some tea." He handed it to me.
"How about a band aid?" he sweetly asked.
"Okay. Fine."
He helped me into the bathroom where I sat on the sink while he cleaned the wound. I was glad I had decided to shave my legs after all.
"No Neosporin?" He asked.
"Nope." I answered, anxious to move past the embarrassment of my clumsiness.
He carefully washed the skin, covered the area with some tissue and tightly wrapped two bandaids over the gaping hole. His hands were so warm and just the feel of his fingers on my delicate ankle sent a rush of heat up my spine. His gentle touch had the same impact of his chivalrous insistence upon always walking between me and a moving car, it made me feel safe.
"You really should make sure you get something else on that before you go to bed."
"I'll be fine doctor." I said, scooting off the edge of the bathroom sink and onto the floor.
I made an angel hair pasta with a home made sun dried tomato sauce tossed with jumbo shrimp and chopped arugula. We ate out of big pasta bowls and hovered over a scrabble board listening to Frank Sinatra on my XM radio. He impressed me with his eight letter words and elevated grasp of the English language. I relished the wrinkle of his brow as he gazed over his letters trying to find the perfect word to impress me. We laughed at each other, told funny stories and relaxed in the comfort of a warm home. He wasn't afraid to challenge my spelling. He did the dishes before a knock came at the door.
When I answered the door, it was Gabe's roommate passing by after work to pick him up. She had a tube of Neosporin in her hand and spoke with her thick Italian accent,
"Gabe asked me to bring this from the first aid kit at work."
She handed me the tube and went back to sit in her car to wait for Gabe.
"Make sure you get some on that cut before you go to sleep." He said. He kissed me goodnight in the doorway and held me in a tight embrace for what felt like many minutes. I felt my toes tingle, heat racing through my body with the increased pulse of my heart. He gently rubbed the side of his freshly shaven cheek against my forehead. He had shaved for me too.
"Goodnight," was all he said and stepped out the front door where he waited for me to lock the gate and the door before he walked towards his roommates car.
I knew from that very first night that Gabe was going to be someone significant in my story. In just three dates, he had already done more to make me feel special than any other man I had ever dated. And I let him.