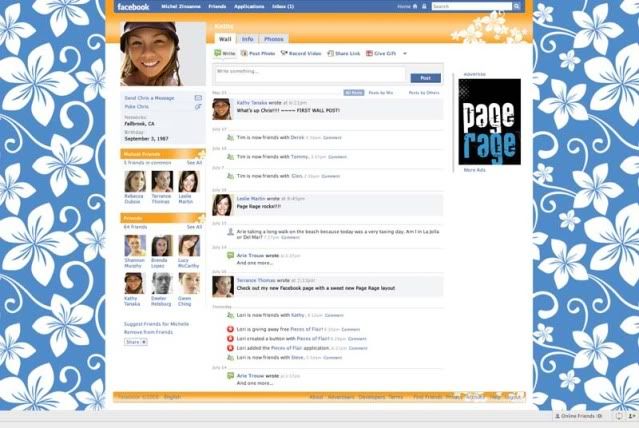 Often times when companies and individuals approach me about launching a social media strategy they feel overwhelmed by a world with its own language and its own, rapidly changing rules. I assure them that the world is in fact, simple. All you really need to begin understanding social media is time. Of course, time is a person's most valuable commodity and that is why it is often worth investing in a coach or hiring a consultant.
To get you started on understanding the lingo, here are a few basic definitions:
A Blog:
From "Web log." A blog is basically a journal that is available on the web. The activity of updating a blog is "blogging" and someone who keeps a blog is a "blogger." (
Source
)
Facebook:
Facebook is a social networking service that lets you connect with friends, co-workers, and others who share similar interests or who have common backgrounds. Many use it as a way to stay in touch after finishing school, or as a way to share their life publicly. What makes Facebook different from other social networks is its extensive privacy controls, its development platform, and its large and quickly growing user base. Facebook has been called the "thinking person's" social network. Compared to many other social networks, Facebook gets new features and improvements on a regular basis. My new favorite is a status update feed that functions much like a twitter feed to keep you informed in real time of what is happening in the lives of your friends and family.
Flickr:
An image and video hosting website, web services suite, and online community platform. In addition to being a popular Web site for users to share personal photographs, the service is widely used by bloggers as a photo repository. It claims to host more than 3 billion images. (
Source
)
RSS:
RSS (short for Rich Site Summary or Really Simple Syndication) is a format for delivering regularly changing web content. Many news-related sites, weblogs and other online publishers syndicate their content as an RSS Feed to whoever wants it. Basically, it send out blogs or site content as an email whenever there is an update. (
Source
)
Social Media:
A category of sites that is based on user participation and user-generated content. They include social networking sites like LinkedIn, Facebook, or My Space, social bookmarking sites like Del.icio.us, social news sites like Digg or Simpy, and other sites that are centered on user interaction. (
Source
)
Twitter:
Twitter is mini blogging that you can have delivered straight to your phone and post to, straight from your phone. It's the ability to group text message all your friends and have them group text message back. When you add friends outside your immediate network, you can build a valuable source of information and news. There is a great article on it here. (
Source
)
Wiki:
This is a website that includes the collaboration of work from many different authors. A wiki site allows anyone to edit, delete, or modify the content on the web. (The first wiki creator named the site after a chain of buses in Hawaii; Wiki means "quick" in Hawaiian.) (
Source
)
Web 2.0:
The Term web 2.0 was coined by Dale Dougherty in a brainstorming session with book publisher Tim O'Reilly at a conference in late 2005. It was intended to suggest the next generation of Web applications that were turning the Web from a static experience into an interactive one. In the world of computer software, the 2.0 version of a product represents a generational step-up from the original 1.0 version of that product. The applications originally thought of as fitting the Web 2.0 mold, were Google's Adsense advertising program, Flickr, and Wikipedia. All these sites make interaction with the users, the primary goal. (
Source
)
Web 3.0:
A term first coined by Nova Spivack , the co-founder and CEO of Radar Networks. Web 3.0 is considered the next level up, of interactive applications. Or in less technical terms, way cooler than 2.0. The below chart highlights some key differences between 2.0 and 3.0.
YouTube:
Youtube was created by three pals from PayPal - Chad Hurley, Steve Chen and Jawed Karim. The concept is brilliantly simple. People post videos on YouTube and watch and comment on the videos others have posted. The videos can be anything from a simple rant into a cell phone camera by a frustrated teenager to a favorite sports clip off of ESPN - and everything in between. The simplicity of the technology has aided its popularity. YouTube offers the combined quality of Windows Media Player and Apple's Quick Time without the need to download additional browser plug-ins. In simpler terms, you click and the video plays... period. It's a medium that allows anyone with a video device to be a star. YouTube has taken the idea of viral videos to a new level. (
Source
)
So now that you know some of these key terms and tools, which should you be implementing to promote your brand? Tune in later this week for the answer to that question. I'd love to hear your feedback on some of your favorites.