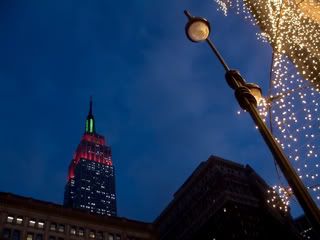 "Merry Christmas from Sober In the City!"



The past year has gone by in a blur. I started the year with a boyfriend, basking in the sun in the Dominican Republic, sipping Diet Cokes with Robert DeNiro and Angelina Jolie. I'm ending it alone in my apartment, writing blogs, addressing Christmas cards, dreading the opening of the Good Shepherd and hoarding Diet Root Beers. But it's been a good year for personal discovery!

In the last twelve months I have worked in Washington DC and Philadelphia. I've finally broken down and obtained a temporary flat in Philly to make the work week comfortable. Frequent trips to NYC allow me to stay current with my sis and my New York girlfriends like Carpe, Lexicon, Mex-goes-NY and Little Lion.

Notable events include: my DC exploits, Z's birthday, a Hampton's Memorial Day, Vegas adventures, weekend at the shore with my two bald parents, weekend at the shore with my wild and crazy girlies, my Seattle BFF's wedding, me and Gloria, two billion dollar babes sales, A Philly Halloween, a new sister-in-law, a new nephew, San Fran with half the fam, quitting smoking, the girl's Fall Hampton's retreat, the AA prom, Belle in the backyard and a day as a tourist in NYC with my sis.

No Mom, no boys. No mom, no girls either. Just me, my relationships, my writing, a promising career and wide-eyed optimism about the possibilities of the future. I've grown up a bit in the past year. This last year I wore more dresses. I saved money. I showed my friends how much they are loved. I said I was sorry when I made mistakes. I made a lot of mistakes. But I also did a few things right. And at the end of 2006, I can say that I'm comfortable in my own skin. I only can hope that 2007 will bring the same.

A warm embrace from my writers desk on this unseasonably warm New York morning. May this time of year fill my friends, my family and my loyal readers with the love and affection given me throughout the year. I'm truly grateful for those of you who have blessed and challenged my last year. Merry Christmas, Happy Hanukkah and Congratulations on making it through another year!